2023 Garden Party at Fair Oaks
Photo Gallery
2023 Garden Party at Fair Oaks
Saturday, February 11 
10:00 am – 4:00 pm
Rain or Shine!
Admission $15 per person*
*$5 for children age 4 and above
*Free for children 3 years of age and under
Tickets can be purchased here or at the gate*.
When you purchase your tickets online, your name and number of tickets will be added to the Guest List at the Entrance Table on the day of the event.
The Fair Oaks Foundation, Inc. invites you to our first Garden Party to celebrate the coming of spring in Old Florida! Held at the breathtaking Fair Oaks in Evinston, FL, the day will include lawn games for the whole family, hay ride tours, a Bouncy Castle, a BBQ food truck, live music, art sales, a painting demonstration, a guest speaker, and more!
2023
Garden Party at Fair Oaks
Special Features
– The beautiful landscape art of Diane Brody, Scott Hiestand, Randy Pitts, Robin Popp, Cleetus Antony, and Charles Dickinson. All paintings will be available for purchase to support these wonderful artists and the Fair Oaks Foundation. Information about the artists can be found below.
– A special talk by Tom Kay, Executive Director of Alachua Conservation Trust.
– Music by members of the University of Florida Jazz Band – sponsored by Jim Theriac.
2023
Garden Party at Fair Oaks
Artists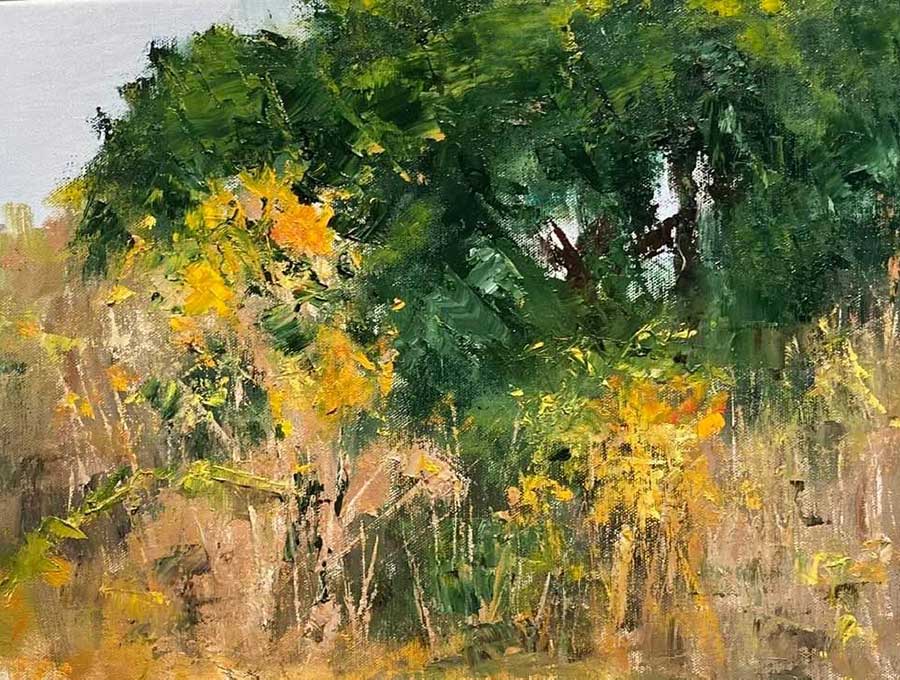 Diane Brody
Born and raised in New York City, Diane Brody's artistic temperament quietly brewed until moving to Florida in 1989.
A science teacher and tree-hugger, she re-invented herself as a painter, moved by the quickly disappearing natural environment. Her medium is oil. 
Deep in the woods, I follow the sound of water.
Bands of light filter through the trees .  What a wonderful painting this could be!
A little stream emerges, reflecting the colors of everything the woods contain.
How do I paint the call of the hawk?
Member of Oil Painters of America
Member of American Impressionist Society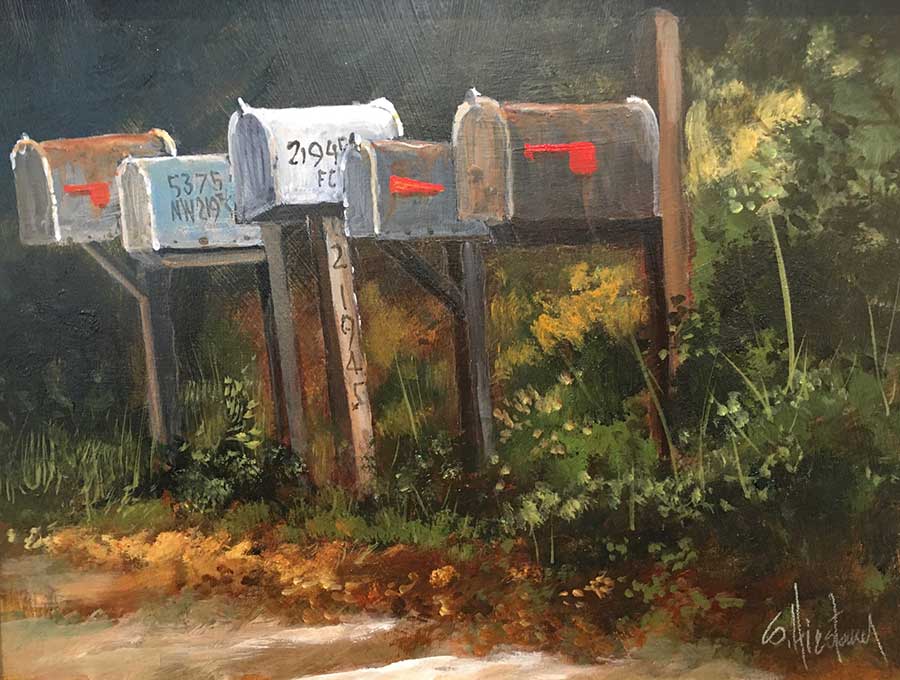 Scott Hiestand
Scott, an Ormond Beach resident since 1999, was raised in St. Petersburg, Florida. He obtained a four-year art degree from Hussian School of Art in Philadelphia. After graduation from art school, Scott was employed by Hallmark cards to create flower settings and wildlife greeting cards. He later worked for the St. Petersburg Times for fifteen years as a graphic artist, where a large part of his responsibility was to illustrate the outdoors pages. While at the Times, Scott created an illustrated column that ran once a week entitled AThe Nature of Florida. He wrote about and illustrated a different Florida species each week.
In the mid-1980s Scott moved to Colorado Springs, Colorado, where he was the art director of the local newspaper for eight years. Upon returning to Florida, Scott worked as a graphic artist for the Orlando Sentinel newspaper for eight years and for the Daytona Beach News-Journal for six years.
Scott, an avid falconer, appreciates wildlife and the outdoors. His appreciation for nature and wildlife is reflected in the realism of his work. Scott seeks to share his enthusiasm for nature with others via his acrylic paintings and wire/mixed media sculptures.
Throughout Scott's career with Hallmark and newspapers, he was always creating paintings and sculptures. His Scott's work has been recognized throughout the United States and abroad. He is a State of Indiana upland game bird stamp contest winner; he is the artist who designed the Florida bass fish automobile license plate; and his paintings have traveled throughout the United States as winners in the top 50 and top 100 of the Paint America (paint the parks) competition. Additionally, Scott has done past prints for the Wild Turkey Federation and Duck Unlimited (Florida). Scott's paintings and sculptures are part of many private and corporate art collections.
Randy Pitts
Randy Pitts graduated with a Bachelor of Fine Arts degree from the University of South Florida in 1982 with a concentration in drawing and printmaking. Having a career in the commercial arts, Randy decided to expand his creative pursuits and began painting in 2001. Randy has since become devoted to painting the landscape "en plein air" and the challenges of capturing the fleeting moments of light, form and shape it provides.
Randy has continued his education by attending several workshops taught by nationally recognized artists including Scott Christensen and Don Demers. He has earned numerous awards in local and regional exhibitions and competitions. His artwork was chosen by Southwest Art Magazine to promote the Art of the Trees Exhibition in their "Beyond the West" section highlighting upcoming events. His work recently was featured in the "Artist Focus" section of the June 2019 Edition of American Art Collector Magazine.
From 2014 through 2016, Randy was President of First Coast Plein Air Painters and oversaw the organization's growth from just a few members to over 50 members. Under his guidance, the organization hosted several painting events, workshops and demos by nationally recognized artists, and several group exhibitions for its members.
Randy resides in Jacksonville with his wife Debbie.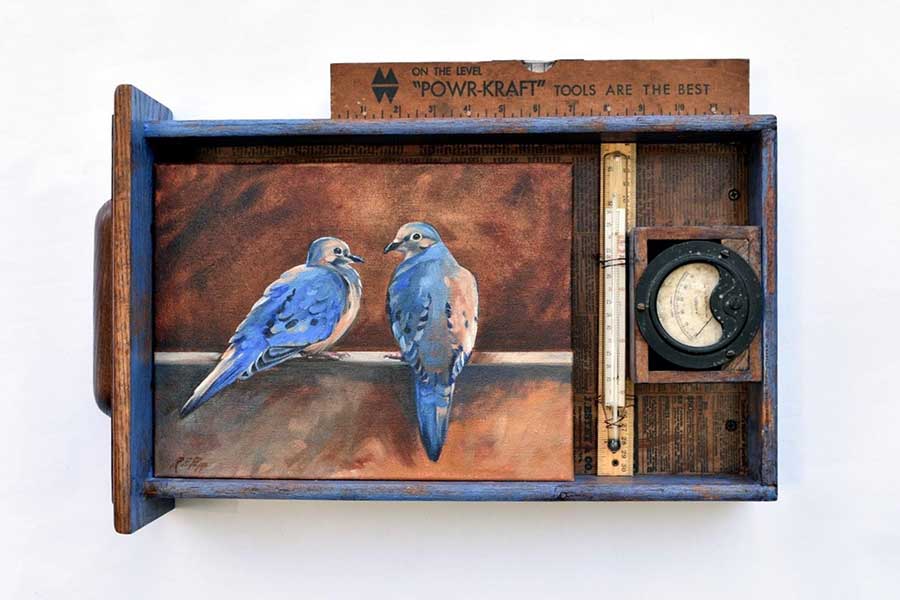 Robin Popp
Born in south Florida, Robin has always had a love for sunshine and palm trees. Encouraged by a creative family, her love of art started as soon as she could hold a brush. She spent a short time at Ringling School of Art and Design in Sarasota, FL, and earned a certificate as a cabinetmaker from Pinellas Technical College in Clearwater, FL. Combining her love for painting and for woodworking has been a challenge until recently when she began to cradle her paintings in wooden boxes. Now Robin has a painting studio and a woodworking studio on the thirteen acres in north Florida she shares with her husband. Their three grown children live with their families in three different directions of the compass.
About my work:
The slow, steady movement of living things inspires me to patiently pay attention. I'm inspired by hidden places of rural Florida because of the quiet wildness they hold. Framing my paintings in repurposed wood with added elements can further tell a story or share a secret meaning. Many times I use fragments of musical instruments because of the tones the wood has absorbed during it's life. Repurposing abandoned materials always adds subtle whispers of a past place and time.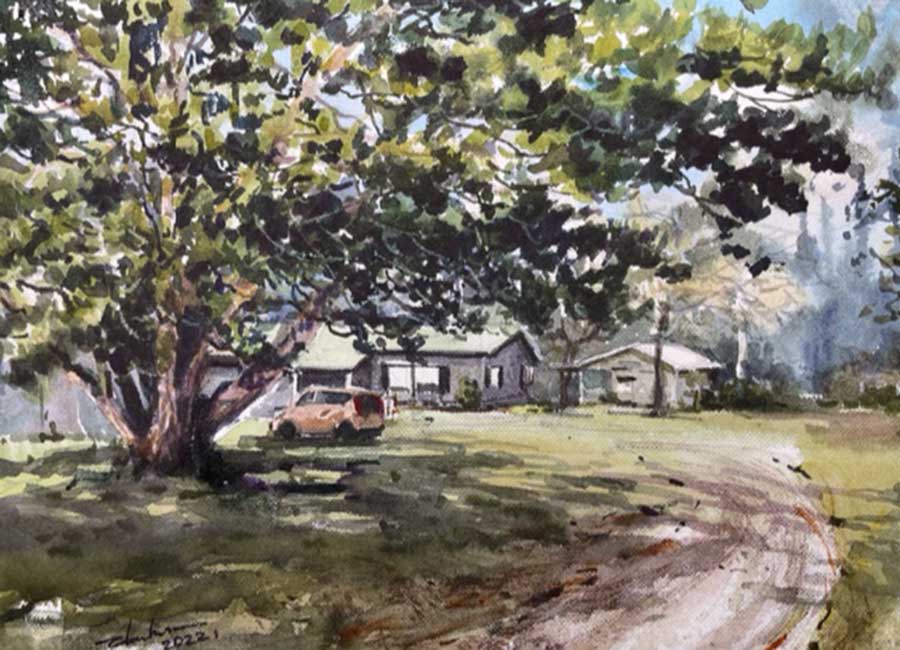 Cleetus Antony
I was born and raised in Kerala, India. I immigrated to the United States with my family in 2006. I work in the IT department of a healthcare corporation, however painting is my passion. I use multiple mediums of paint such as acrylic, casein, oil, and my favorite, watercolor. I have been painting and sketching various subjects like nature scenes, figurative paintings, and urban landscapes for many years. 
My philosophy regarding landscape painting is that when I paint nature, I like to add humans, animals, or man made objects to it.  Although nature is self-sustaining, humans and man-made objects rely on Mother Nature in order to exist and survive. By adding these human elements to nature, it creates a feeling of coexistence with nature and humanity.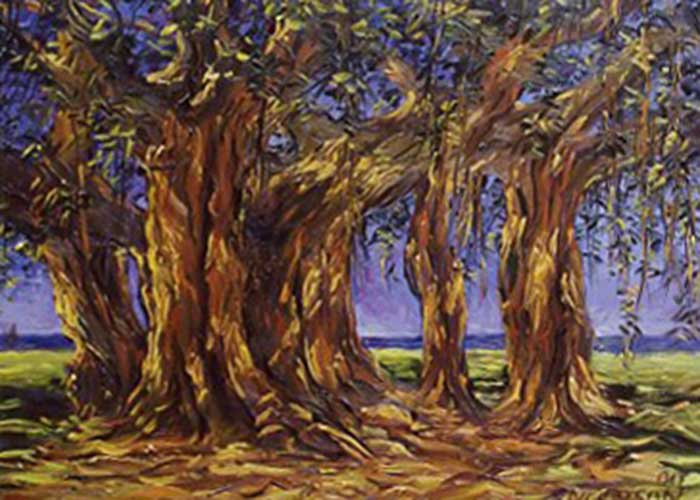 Charles Dickinson
Charles Dickinson, a Connecticut native now making his home in Florida, grew up in a family of artists. Charles's grandfather, Sidney Dickinson, taught at the Art Student's League in New York and hangs in the National Gallery, The High Museum of Art and the Greenville County Museum of Art. Sidney's second cousin, Edwin Dickinson, exhibits in the New York Metropolitan Museum of Art and the Norton Museum of Art. Along with Charles's father, Thorn Dickinson, these men exposed Charles to art at a very young age and gave birth to his artistic mindset. He began drawing in early childhood. Later he received four years of formal training at the Paier School of Art in Hamden, Connecticut, and earned a scholarship at Lyme Academy of Fine Art in Old Lyme, Connecticut where he studied painting and sculpture. He has since dedicated his life to the study of painting and has supported himself solely on the sale of his artwork as a plein air artist for the past thirty-five years. 
Charles is an award-winning artist who has been honored most recently in 2022 with the Maecenas Award chosen by collectors for his painting, Streaming Florida, during the Forgotten Coast en Plein Air event. In 2021 he received a Best Figure in a Landscape award at the Glouster Paint Out in Virginia. Then also in 2021 and back home in Florida Charles won Best of Show during the Florida Wild Exhibit. In 2019 he received a "Best in Show: Jean Wagner Troemel award." Then in 2018 Charles was honored with the Blick Award at Plein Air Richmond as well as a Third Place award in the Bucks County Plein Air Festival Quickdraw and in 2017 with a Second Prize for his painting "Shockoe Bottom Fire Escape" from Peter Trippi, Editor-in-Chief of Fine Art Connoisseur magazine during Plein Air Richmond 2017. Also in 2017 Charles was awarded the Emmett Fritz Award for Best Oil Painting for his painting "Hanover Industrial Park" in the Honors Show in St. Augustine, FL. In 2016 his painting, Banyan Land, won Best of Show, Jean Wagner Troemel Award at the Spring Members Show and then in 2015 with awards that include a "First Place" award in the 2015 Paradise Paint Out Quickdraw in Islamorada, FL and "Honorable Mention" at the 2015 Lighthouse Art Center Plein Air Festival in Tequesta, FL. He has been commissioned for paintings in such diverse locations as the New York Stock Exchange, The Meadowlands racetrack in New Jersey, Saratoga Springs, New York, and Epcot. Charles's work is collected internationally.
Charles has been painting the East Coast of the United States for many years and often divides his time between Florida, Pennsylvania, North Carolina, Maryland, Connecticut, Maine, and Vermont. Charles' artistic aim is to create quality paintings that capture his vision of the spirit and beauty of nature.
* Once purchased, there will be no refunds on ticket sales. All proceeds support the mission of the Fair Oaks Foundation, Inc.