2023 Autumn Arts Soiree at Fair Oaks
Saturday, September 30, 2023
11:00 am – 5:00 pm
Mark your calendars! We cordially invite you to attend our Autumn Arts Soiree at the serene and beautiful Fair Oaks, located in the heart of Evinston, FL. This event is more than just a gathering – it's a celebration of the creative spirit, the changing seasons, and our vibrant community.
2023 Autumn Arts Soiree at Fair Oaks
Special Highlights
We're thrilled to welcome a lineup of distinguished guest artists who will be sharing their talent and passion with us:
Hoyt Childers, renowned for his beautiful ceramics,
Jacquelyne Collett, whose art glass is chic and elegant,
Nina Tarnuzzer, an accomplished watercolor artist,
Chris Tatum, a visionary in the art of woodworking,
Mary Jane Volkmann, whose vibrant portraits capture the essence of her subjects.
Prepare yourself for an inspiring journey through various art forms, each piece telling its own unique story.
2023 Autumn Arts Soiree at Fair Oaks
Extra Features
But that's not all! We'll be serenaded by the captivating melodies of Welson Tremura, providing the perfect ambiance for this artistic evening. Pair that with our handpicked wines and delectable nibbles, and you're in for an experience that delights all senses.
Moreover, we are delighted to announce that we will have a special guest speaker, Mallory M. O'Connor.
The Autumn Arts Soiree is more than an event – it's an experience. So come join us, immerse yourself in the world of art, enjoy the company of like-minded individuals, and create unforgettable memories under the autumn sky.
We eagerly look forward to hosting you at Fair Oaks.
* Once purchased, there will be no refunds on ticket sales. All proceeds support the mission of the Fair Oaks Foundation, Inc.
2023 Autumn Arts Soiree at Fair Oaks
Artists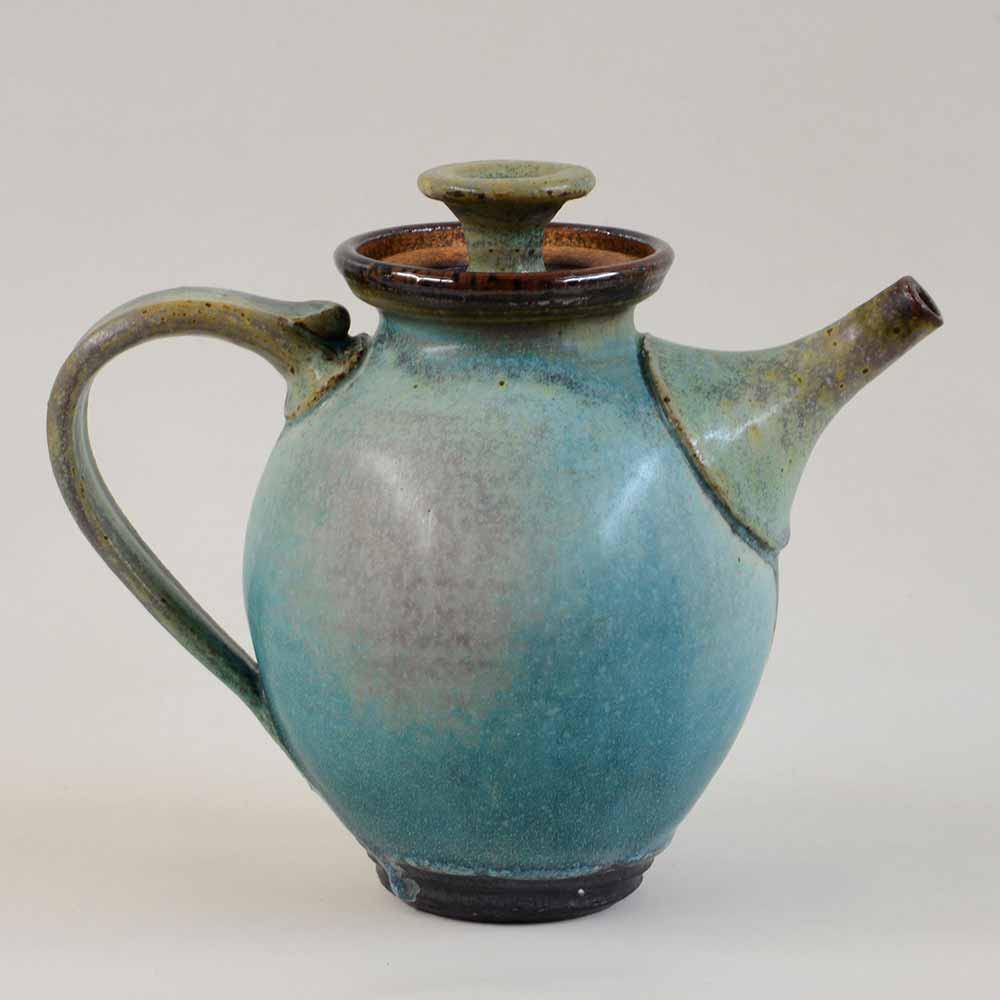 Hoyt Childers
Hoyt Childers is a skilled ceramist whose work spans from 1970-1985 and 2015 to the present. He trained under master potter Walter Hyleck at Berea College and later returned as the program's first graduate apprentice. He initially focused on functional pottery, selling his work across several states and being recognized in a Smithsonian exhibition. In 1985, he pursued writing and photography, becoming the Gulf and South Atlantic Bureau Chief for National Fisherman Magazine. However, his love for ceramics was rekindled in 2012 when he began building a custom kiln and setting up a new studio. Today, Hoyt's work can be found in Gainesville-Newberry, Florida, and at select art festivals.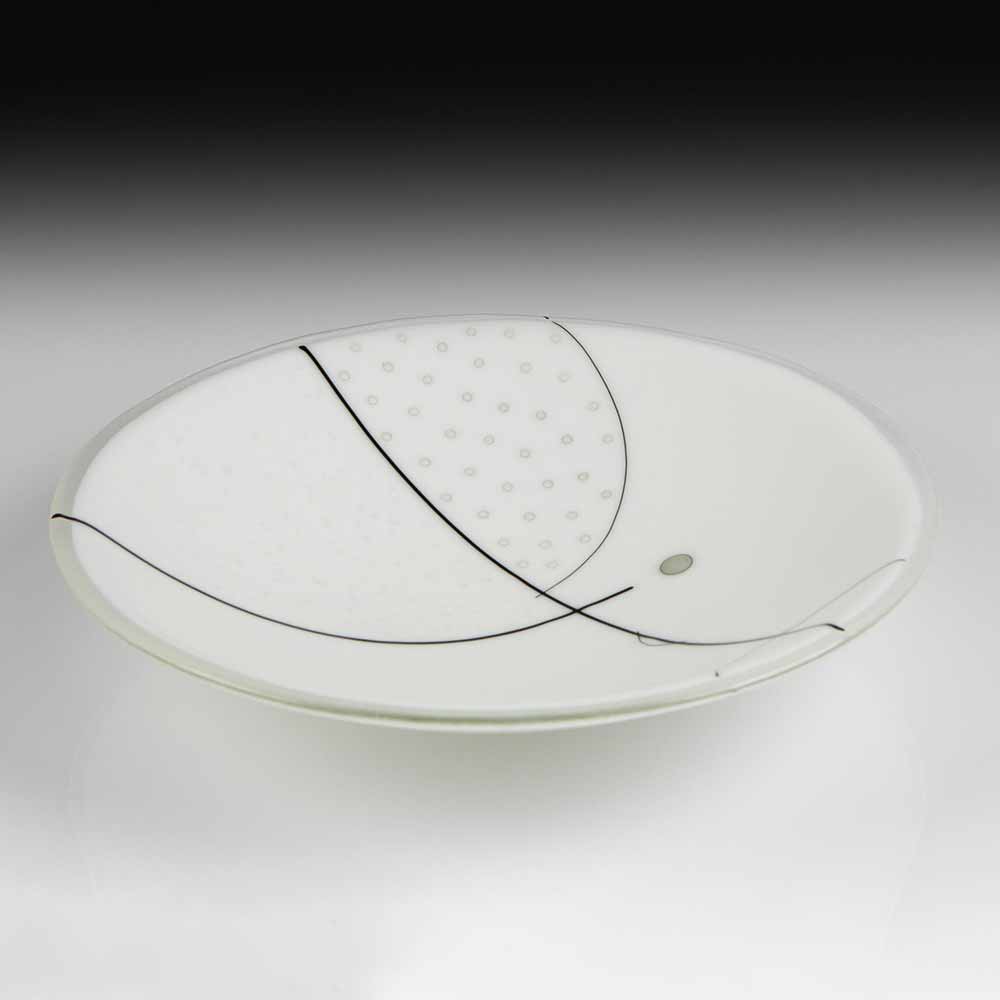 Jacquelyne Collett
Jacquelyne Collett is a dedicated artist specializing in glasswork. Her creative process involves hand-pulling glass threads over a torch and reshaping them with heat, typically without a preconceived design in mind, resulting in truly unique pieces. Collett's work features subtle colors that react with each other due to the oxides in the glass, creating interactive borders and depth. Her inspiration stems from the formal elements of line, tone, shape, and texture, embodying her innate designer instincts. She takes great pleasure in the intricacies of line and the conception and organization of visual compositions. Her work is not just a creation but an exploration, a testament to her mastery of her craft.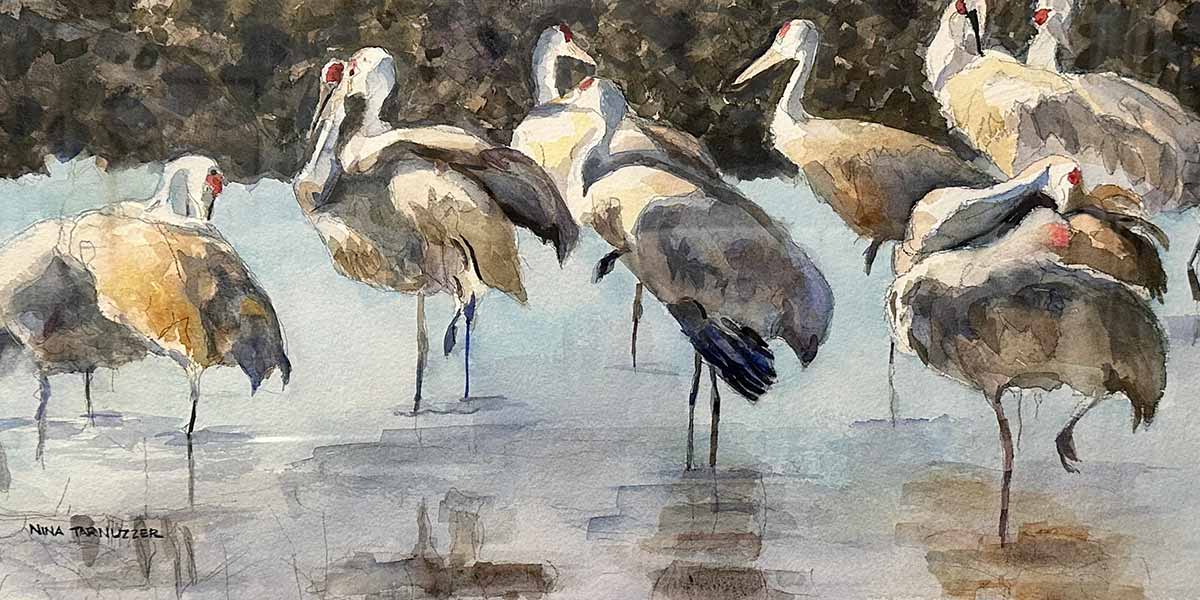 Nina Tarnuzzer
Nina Tarnuzzer is an artist deeply inspired by the vibrant colors and unique wildlife found in Florida's morning light. She specializes in watercolor painting, captivated by the magic of pigments blending on paper to capture the essence of her subjects. As part of her creative process, she takes on the adventurous task of photographing birds, notably sand hill cranes, which she holds in special regard. Having lived in Micanopy for over three decades, Nina's work beautifully reflects her deep connection with the local wildlife and her ongoing love for the distinctive natural beauty of Florida.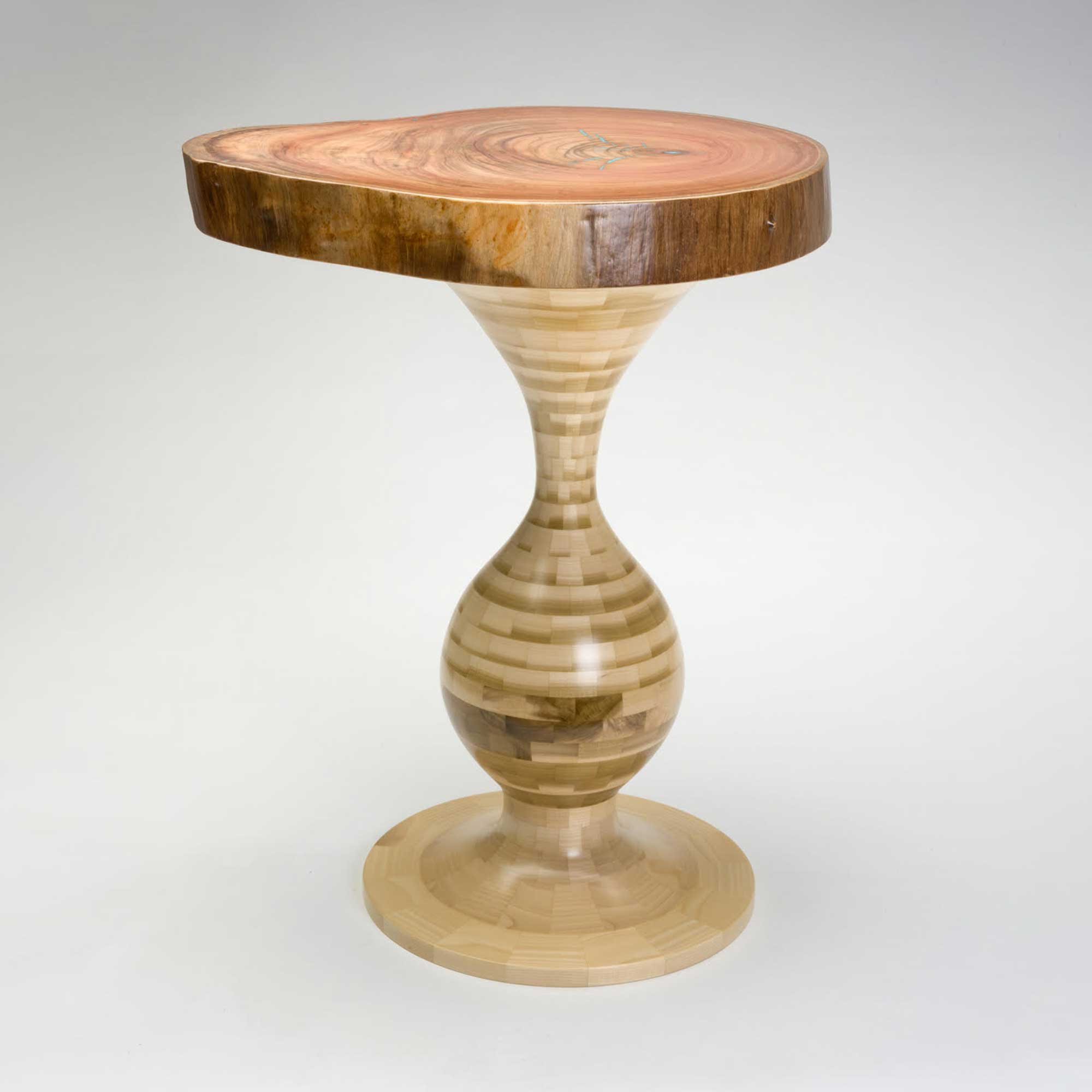 Chris Tatum
Chris Tatum has worked with wood all his life. A migrant from Miami, Florida, he moved to Gainesville in 1978. He has been a craftsman of fine furniture and cabinetry for over 36 years and has since reinvented his art form to focus on wood turning, the art of shaping forms on a lathe to create functional and sculptural objects. Utilizing this carved material, Chris meticulously crafts beautiful works of art from his imagination. His work not only serves a functional purpose, but is also aesthetically engaging and thought-provoking.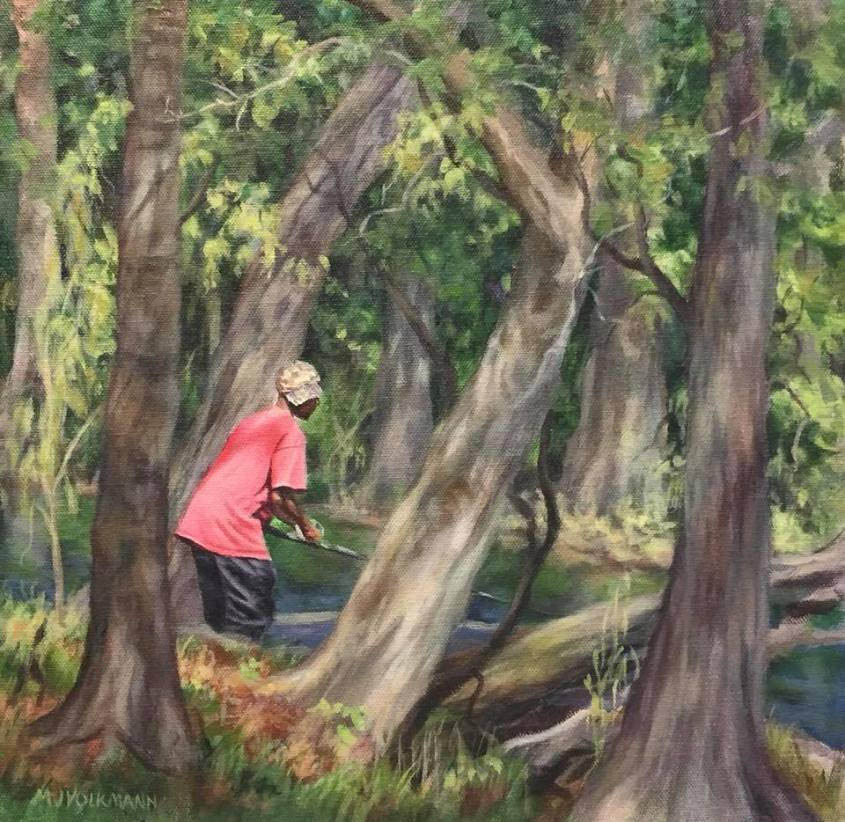 Mary Jane Volkmann
Mary Jane Volkmann is an artist who seeks inspiration from the world around her and views it as a reflection of the spirit's song, as described in the Bahá'í Writings. She strives to capture this 'song' on canvas, finding beauty in the silhouettes of trees against the evening sky or the landscape's transformation in different light and weather conditions. Her interest is also drawn to the intricacies of the human face and imagining the life of the person she is portraying. Mary Jane's paintings are more than mere images; they are a diary of her exploration and an attempt to capture a melody about our entrusted world. Each piece is a testament to her profound appreciation for the world's marvels and her devotion to conveying that through her art.
2023 Autumn Arts Soiree at Fair Oaks
Guests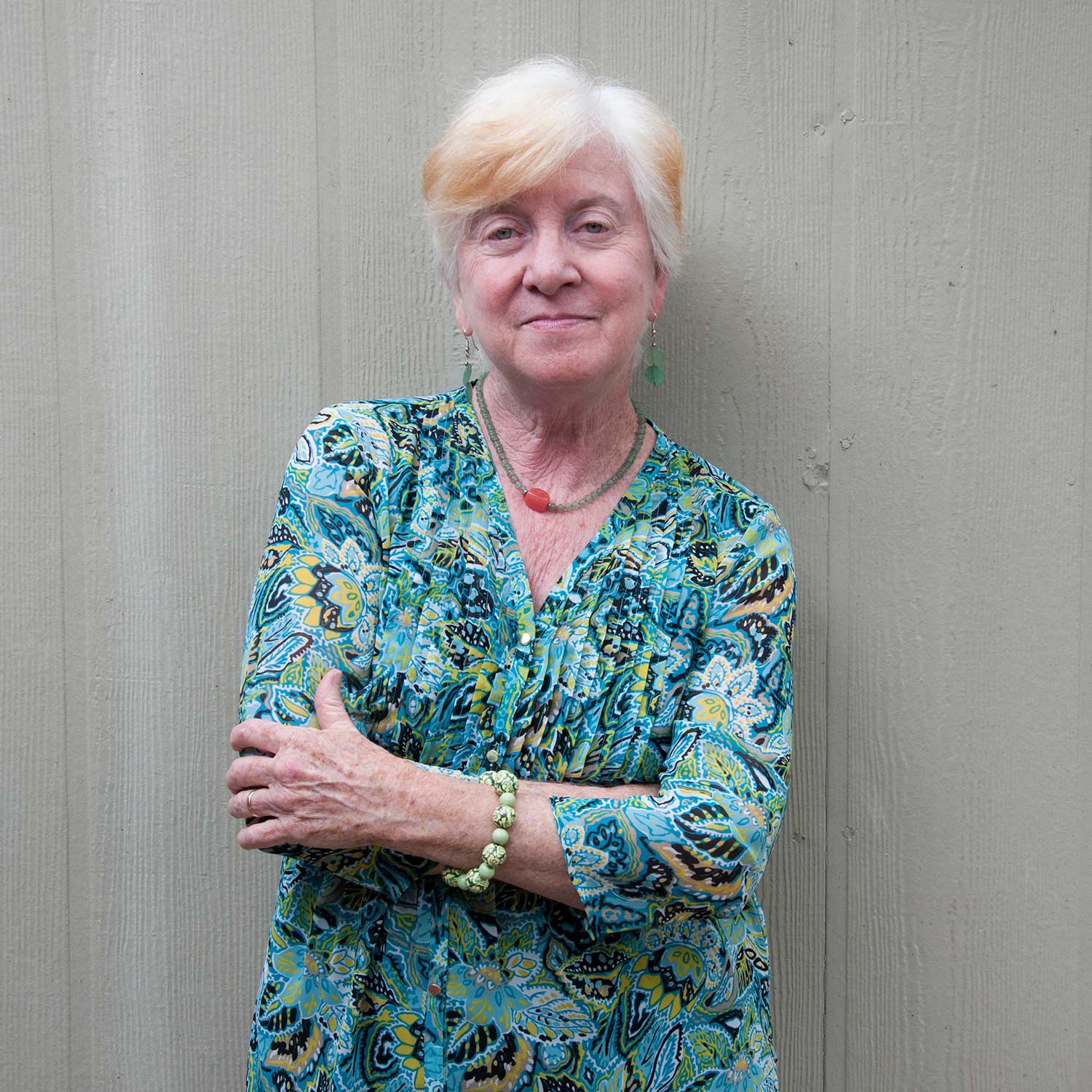 Mallory M. O'Connor
Mallory M. O'Connor, Professor Emerita of Art History, Santa Fe College, holds degrees in art and art history from Ohio University and taught art history at the University of Florida and at Santa Fe College. She is the author of six published novels— the American River Trilogy and Epiphany's Gift, Key to Eternit, and Xanadu's Cavern— (Archway Publishing) as well as two non-fiction books, Lost Cities of the Ancient Southeast and Florida's American Heritage River, both published by the University Press of Florida. Her most recent book is The Kitchen and the Studio: A Memoir of Food and Art (Atmosphere Press, 2023) co-authored with her husband, John A. O'Connor.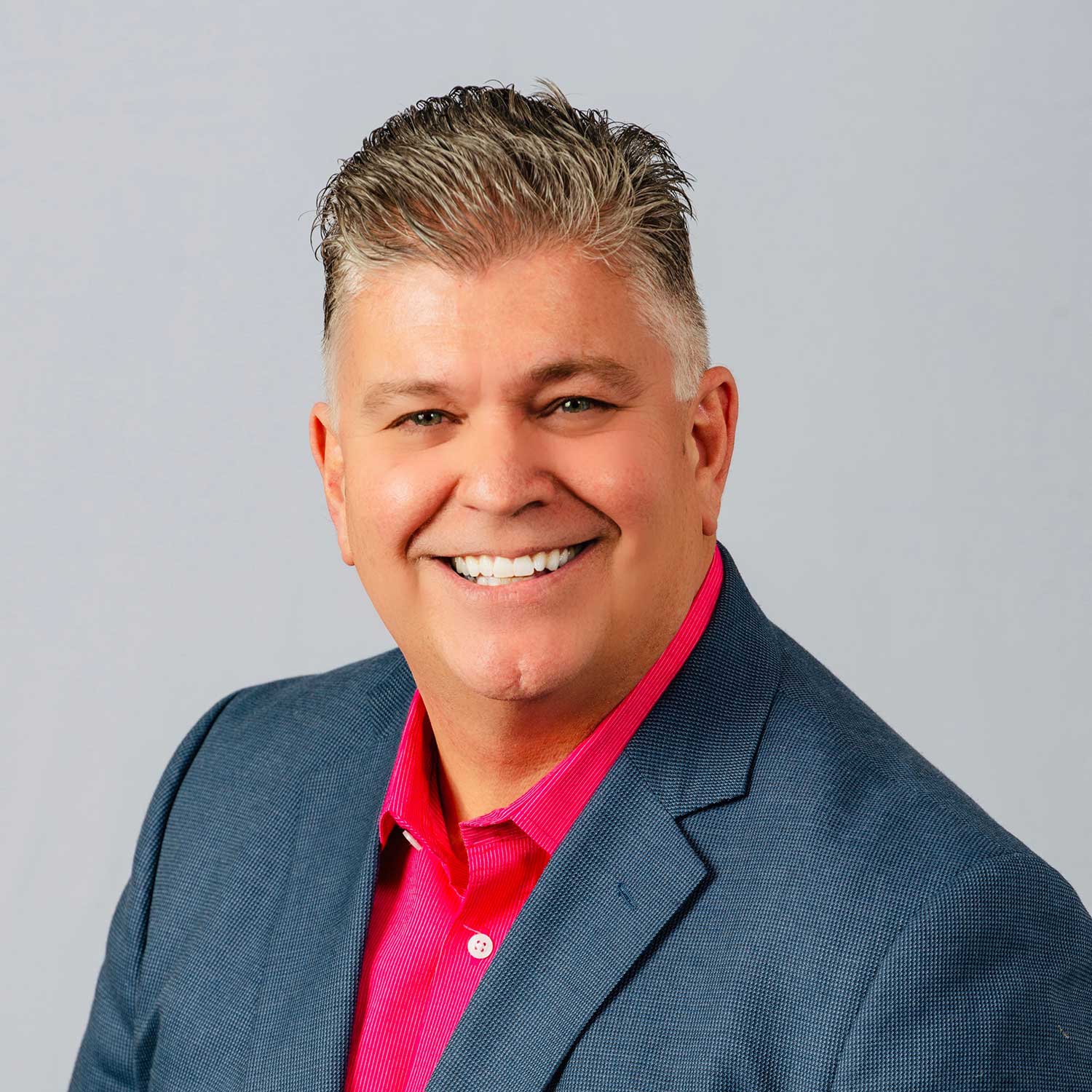 Welson Tremura
Welson Tremura (musicologist – guitarist-singer) is a Ph.D. in musicology-ethnomusicology from Florida State University and currently serves as a Professor in the School of Music and the Center for Latin American Studies at the University of Florida. Dr. Tremura is also the Associate Director for the Center for Arts, Migration, and Entrepreneurship, and the Director for the Florida-Brazil International Linkage Institute. 
Combining his classical guitar and his voice, Dr. Tremura triumphant performances include performance halls in the USA such as the Carnegie Hall in New York City and DeBartolo Performing Arts Center in Notre Dame, Indiana. Internationally Dr. Tremura maintains an active performance and academic schedule and has performed and given lectures in Brazil, China, Mexico, Guatemala, United States, India, Spain, Italy, Germany, and New Zealand. Dr. Tremura has been consistently praised by music critics and audiences for his interpretation of the most acclaimed bossa nova songs and his guitar compositions.